Australia has hundreds of critically endangered wildlife species; Currumbin Wildlife Sanctuary's conservation team are actively involved in breed out of extinction programs for many of them.

There are currently 15 projects underway to stop species from Koalas, Kroombit Tinkerfrogs and Eastern Bristlebirds from becoming extinct.

Our Iconic Australian Species - The Koala
Currumbin Wildlife Sanctuary has successfully been breeding Koalas for more than 40 years.

Currumbin Wildlife Hospital's work in applied research, immunology, reproductive management, and veterinary science expertise is making progress toward controlling koala chlamydial disease and preventing the localised extinction of koalas in southeast Queensland.

In February 2021, the Australian Government changed the official species listing of koalas in Queensland, NSW, and ACT from being threatened to being endangered.
---
---
Meet the Team
Dr Michael Pyne | Senior Vet of Currumbin Wildlife Hospital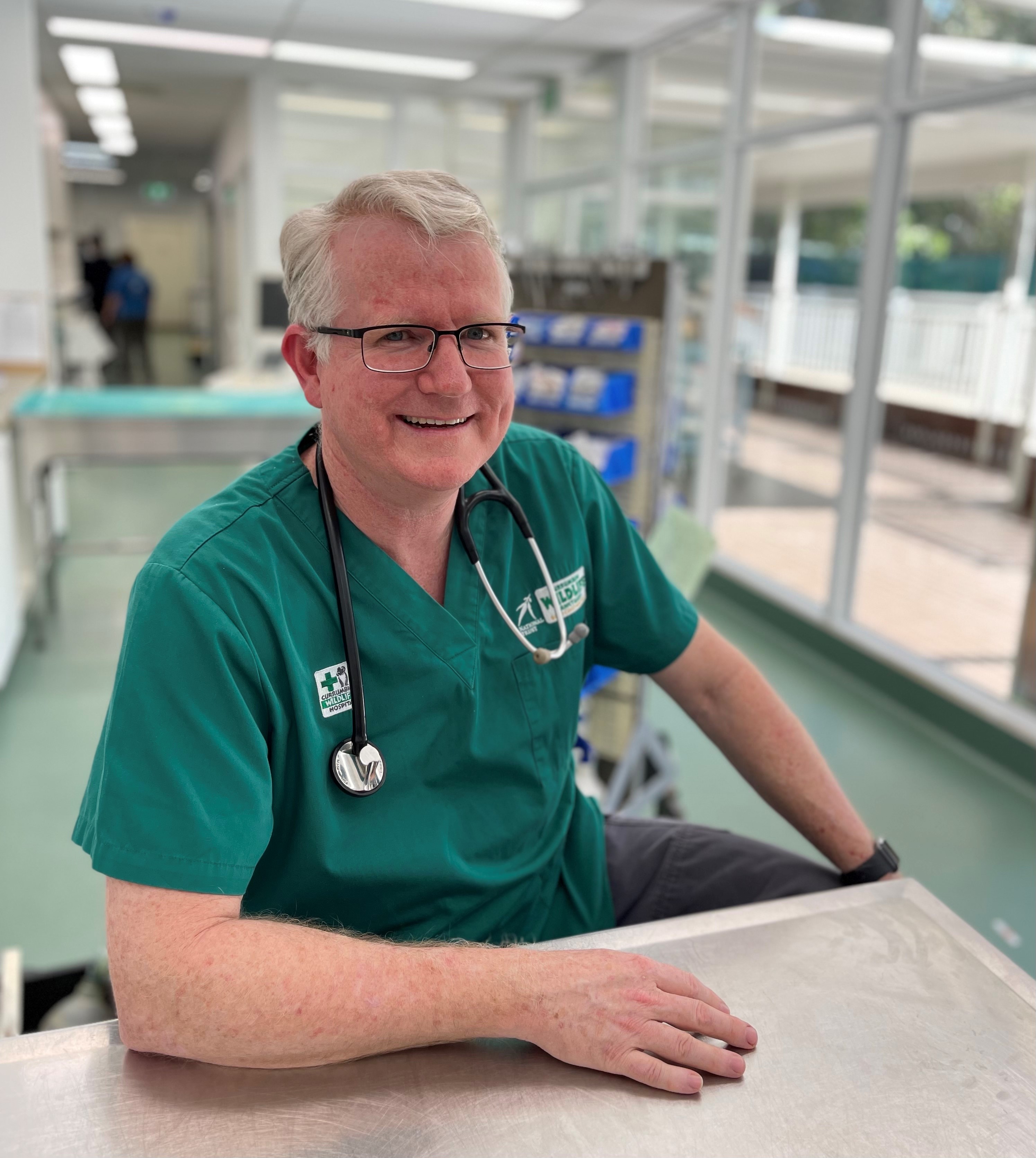 Dr Michael Pyne has dedicated the past 22 years to saving Australian wildlife at Currumbin Wildlife Hospital and is an international voice for wildlife having appeared across a multitude of media platforms.
Dr Pyne is the Senior Veterinarian and General Manager of the Currumbin Wildlife Hospital based on the Gold Coast in Queensland, Australia.
Michael grew up in Townsville and graduated from the University of Queensland with a Bachelor of Veterinary Science in 1992. As a new graduate Michael spent 12 months working in Tasmania before travelling the world for 7 years working with a diverse range of animals.
In 2000, Dr Pyne began working at the Currumbin Wildlife Hospital, completing his Membership of the Australian and New Zealand College of Veterinary Surgeons in 2002. Under his leadership Currumbin Wildlife Hospital has grown into one of the busiest wildlife hospitals in the world, admitting over 14,000 native wildlife cases per year – a service that is provided free of charge to the community. Dr Pyne and his team work tirelessly to treat sick, injured and orphaned native wildlife for release back out into the wild. In 2019, he won the City of Gold Coast Australia Day Environmental Achievement Award for his contribution to wildlife through Currumbin Wildlife Hospital.
In 2021 Dr Pyne was awarded the title of Adjunct Associate Professor from the University of Queensland for his ongoing contribution to native wildlife research and teaching of undergraduate students. The research includes the critically important Koala Chlamydia Vaccine Research Trial at Currumbin Wildlife Hospital which is led by Dr Pyne.
Dr Pyne believes that prevention is better than cure and hopes that through education and research projects, less animals will require hospitalisation. This will ultimately lead to a brighter future for our wildlife.
Lewis McKillop | Vet Nurse Research Supervisor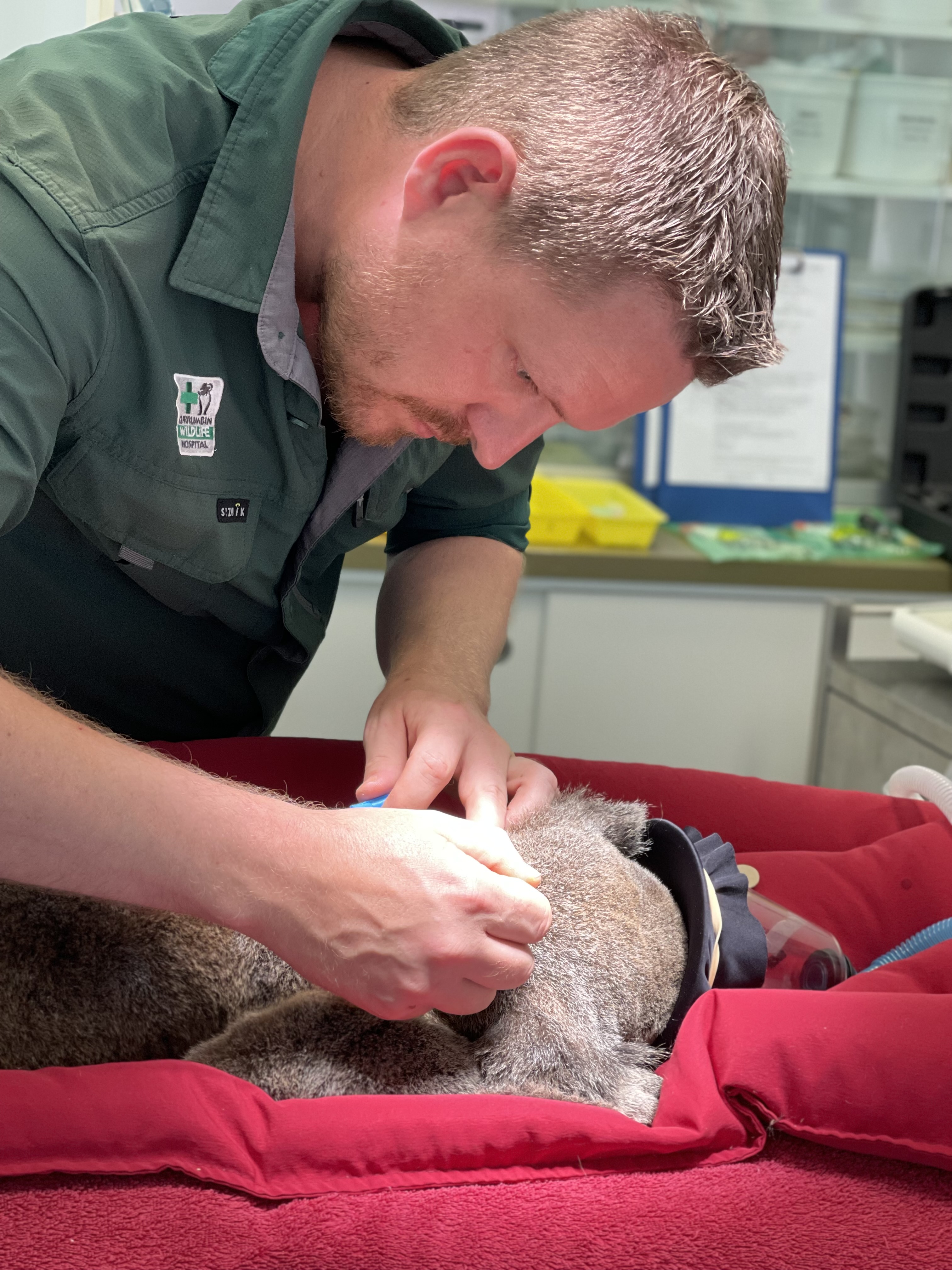 Lewis McKillop has 9 years of experience as a wildlife veterinary nurse and 13 years as a wildlife carer with Wildcare. He is the supervisor of Currumbin Wildlife Hospital research projects including the Koala Chlamydia Vaccine Research Trial at Currumbin Wildlife Hospital and manages the offsite koala rehabilitation facility.
Lewis is deeply involved and dedicated to the Koala Chlamydia Vaccine Research Trial which hopes to save our Koalas from imminent localised extinction. He spends a lot of time out in the field looking for Koalas, checking and rechecking areas with known Koala populations. He is also very involved in the rescue of Koalas and has captured well over 100 Koalas and is regularly involved in the release of Koalas.
Tracking and capturing Koalas is very labour intensive and he often has sleepless nights tracking and capturing Koalas to bring them into Currumbin Wildlife Hospital for vaccination, which is a key step to saving our endangered Koalas from imminent localised extinction.
Tracking Koalas involve the use of ethical GPS collars that reports back to a phone to get a rough idea of where the Koala is. Lewis then goes out into the field and uses VHF antenna which takes him to the very tree the Koala is in.
The process of capturing, vaccinating, releasing Koalas back into the wild, then tracking and recapturing them is a fundamental part of understanding how effective the vaccine is in preventing disease which has the potential to save our precious Koalas from extinction.
---
We Need Your Help!
Through the Currumbin Wildlife Hospital, National Trust plays a leading role in research and is focusing on prevention of fatal diseases in native wildlife.
You can make a difference by donating to world leading research including the koala vaccine program and join us in the fight to save our endangered koalas.
Help with our wildlife hospital and ground-breaking research to ensure our wildlife is safe in its natural habitat and the communities that treasure them.
Help us to conserve and advance our natural and cultural heritage for future generations.
You can help make a difference! Any amount, large or small, will help support our conservation programs.

---
Wildlife Conservation
Breed to Release Programs
---
Meet the Team
Anthony Molyneux | Life Sciences Manager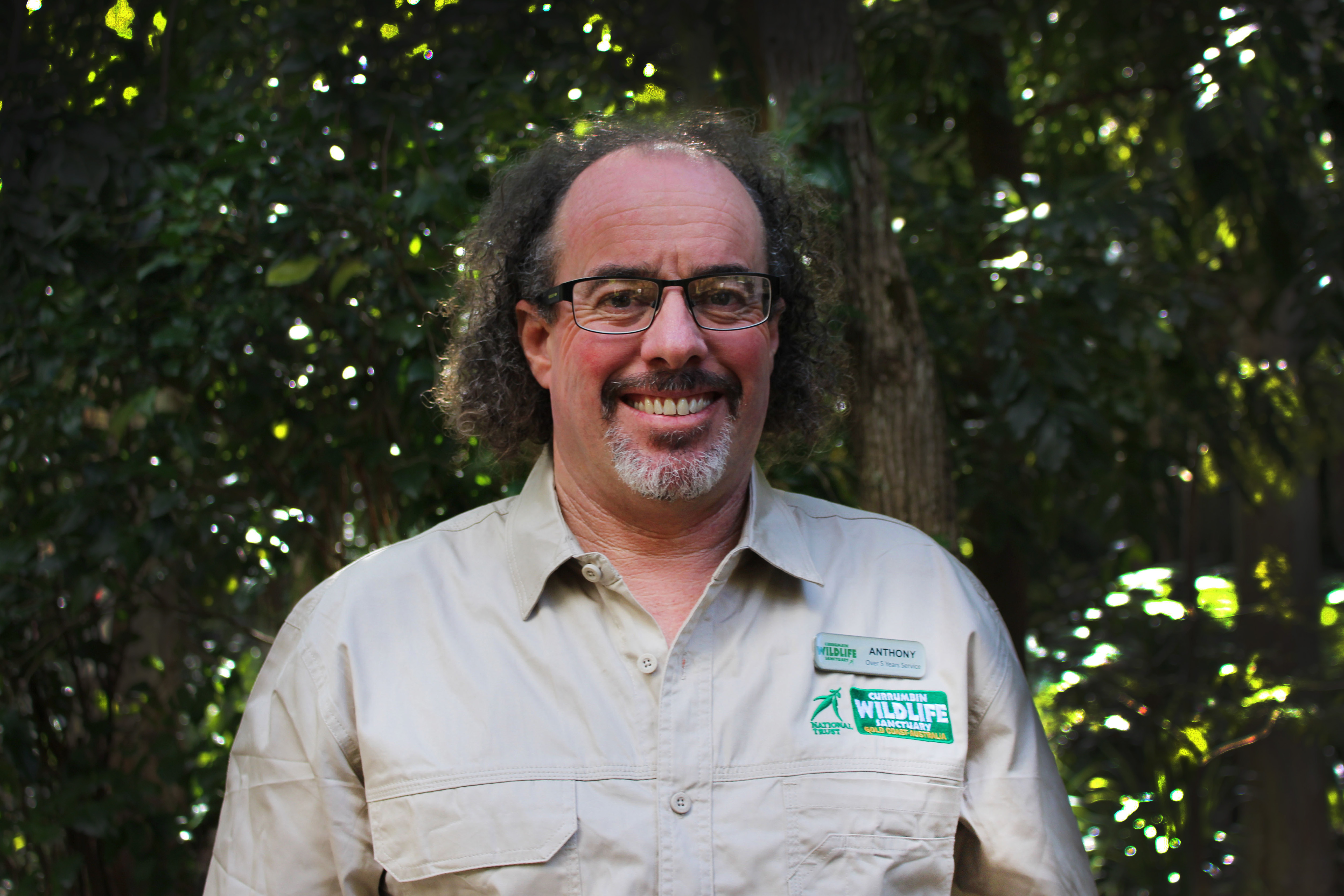 Anthony has the very important role of bringing out the best in people. He oversees many aspects of Currumbin Wildlife Sanctuary, including the wildlife Keepers and education team.

He is responsible for ensuring the welfare of the animals, exhibits have a good aspect from guest point of view and it's a safe environment for our animals, guests, and keepers. Anthony is committed to sustainability and educating our guests on how we can protect threatened species and their habitats.
Anthony grew up in Northern NSW and studied a Bachelor of Business majoring in Marketing. Anthony worked at Currumbin Wildlife Sanctuary for 6 years from 1992 to 1998 in the Public Relations and Presentations departments. He then took the move to the centre of Australia, living and working in Alice Springs in a managerial role in the zoo industry.
He returned to Currumbin Wildlife Sanctuary in 2015 originally as Wildlife Manager, over time this role has expanded into what it is today. Anthony is kept busy overseeing the Education Department to ensure all the school groups that visit have a fantastic time and our programs are aligning with the curriculum. He also makes sure our presentations and shows are engaging and educational.
Anthony also manages our four offsite eucalypt plantations for our koalas – ensuring that they are well managed and sustainable so we can continue to feed our koalas for years to come.
Saskia Lafebre | Wildlife Collections Manager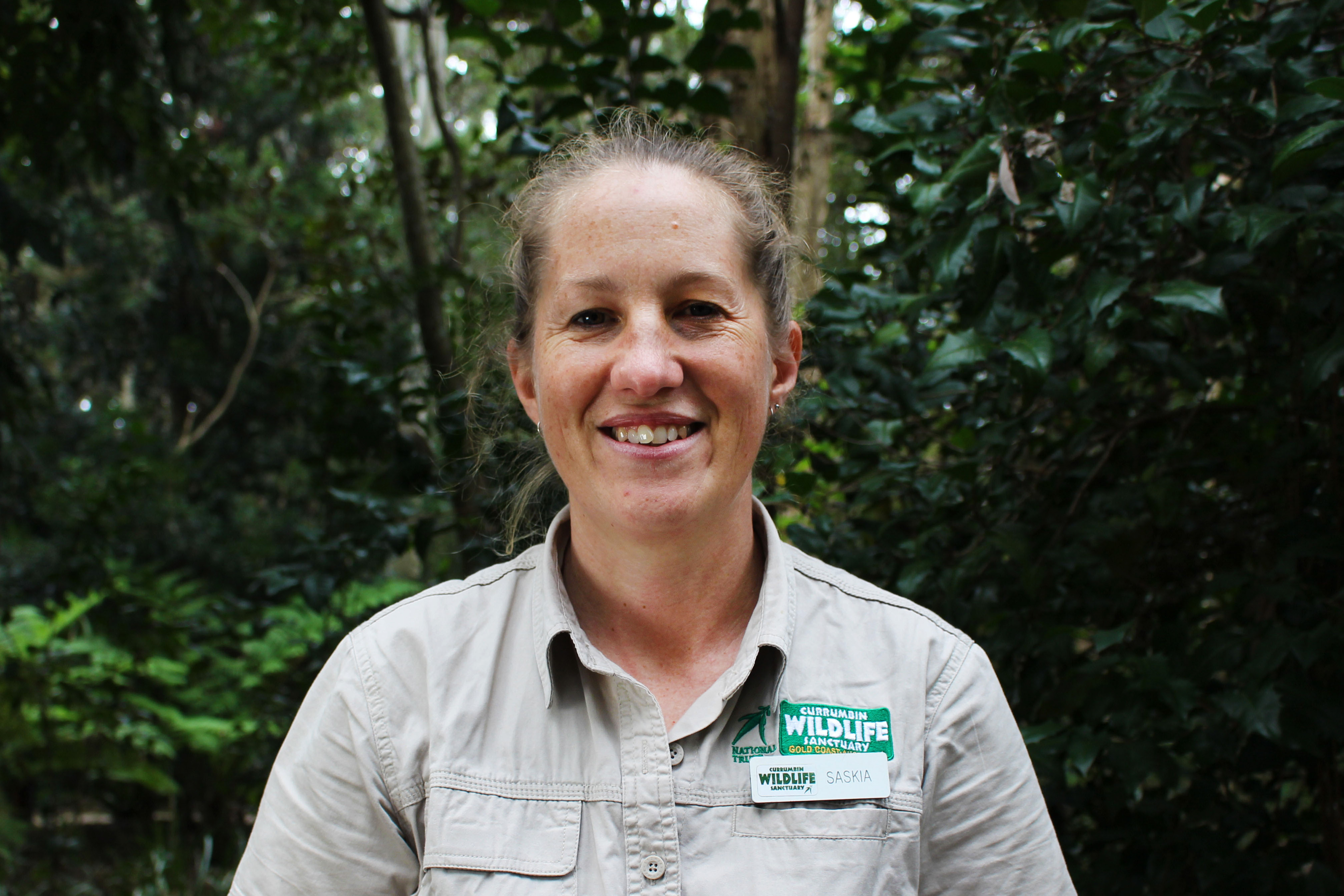 Saskia has worked at Currumbin Wildlife Sanctuary since 2011 and has the important role of overseeing the care and welfare of the animals at the Sanctuary. A love for animals has always featured heavily in Saskia's life and continues to do so through her work and home life. She followed her passion for animals and completed a Bachelor of Science, majoring in Zoology (James Cook University) in 1999. In 2008, she completed a Masters in Captive Animal Management (Charles Sturt University).
After graduating, Saskia volunteered with Singapore Zoo before getting a full-time position managing the Zoo Quarantine in 2000. She transferred to the Reptile Team in 2005 and became the assistant curator for the Reptile Department. She joined Currumbin Wildlife Sanctuary Team in 2011 as Reptile and Amphibian Supervisor and then took on the Curator/Wildlife Collection Manager role in 2014. Having had the opportunity to meet many people that have a strong dislike of reptiles, especially snakes, she hopes she's helped sway people's perceptions of them
"There is nothing like seeing the change in the way people feel about wildlife once they have an opportunity to connect with an animal. Seeing the fear be replaced with respect brings hope for the conservation of these species."
When Saskia joined the Currumbin Wildlife Sanctuary team she was heavily involved in the Kroombit Tinkerfrog Conservation Program and her passion still resides with the program. She loves the continued involvement she has had with the husbandry and management of the species.
Michael Vella | Amphibian Conservation Specialist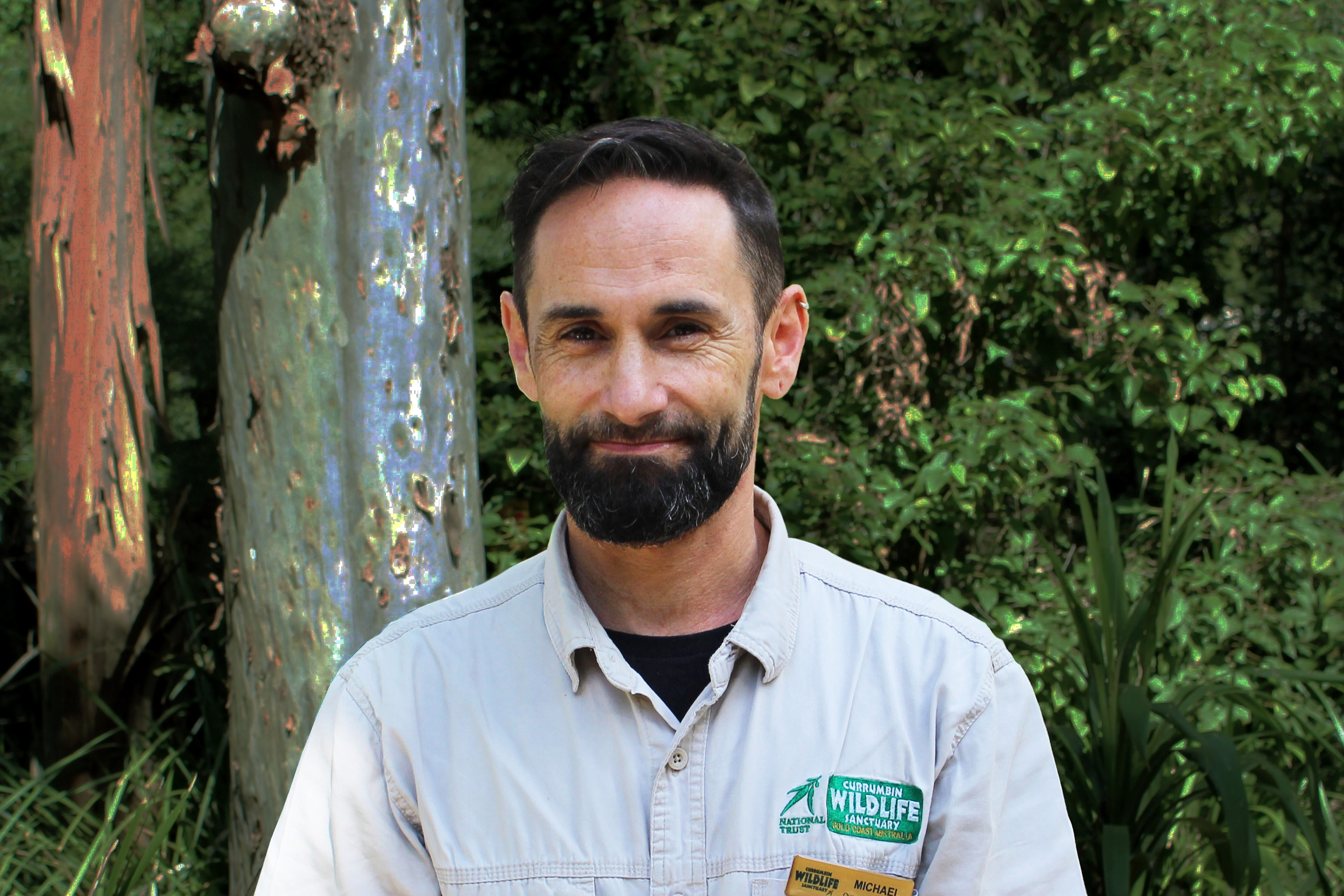 Michael Vella is our amphibian conservation champion whose had a versatile career in the Wildlife industry for 20 years, including working at Currumbin Wildlife Sanctuary for 13 years.
Michael's appreciation and fascination for animals as a child led him to study Animal Technology in 2000 and then Captive Animal Husbandry in 2005. For the last 7 years his focus has been with reptiles and amphibians, including the current Breed for Release Conservation Program for the critically endangered Kroombit Tinkerfrog.
"If our frog conservation project is successful, we will prevent the species from becoming extinct in the near future. Kroombit Tinkerfrogs are isolated to one national park in South-East QLD, with only 200 or so individuals remaining."
Michael's career began as a volunteer at several wildlife parks in Victoria before gaining employment with Zoos Victoria at Healesville Sanctuary and Melbourne Zoo. He worked with native birds and mammals, before specialising in Animal Training and Presentations. Michael has also worked as a Wildlife Veterinarian Technician at Massey University in New Zealand.
As part of his role as Amphibian Conservation Specialist, Michael was given the opportunity to design and manage a new purpose-built frog breeding facility. His work includes the daily care and husbandry of the Tinkerfrogs in the breeding program, rearing captive bred tadpoles and setting up aquariums and enclosures. Michael also participates in some field work, assisting in frog surveys, collecting frogs to breed, and releasing their captive-bred offspring. The program has been a great success and Michael looks forward to many successful breeding seasons to come.
Sarah Eccleston | Koala Specialist and Mammal Supervisor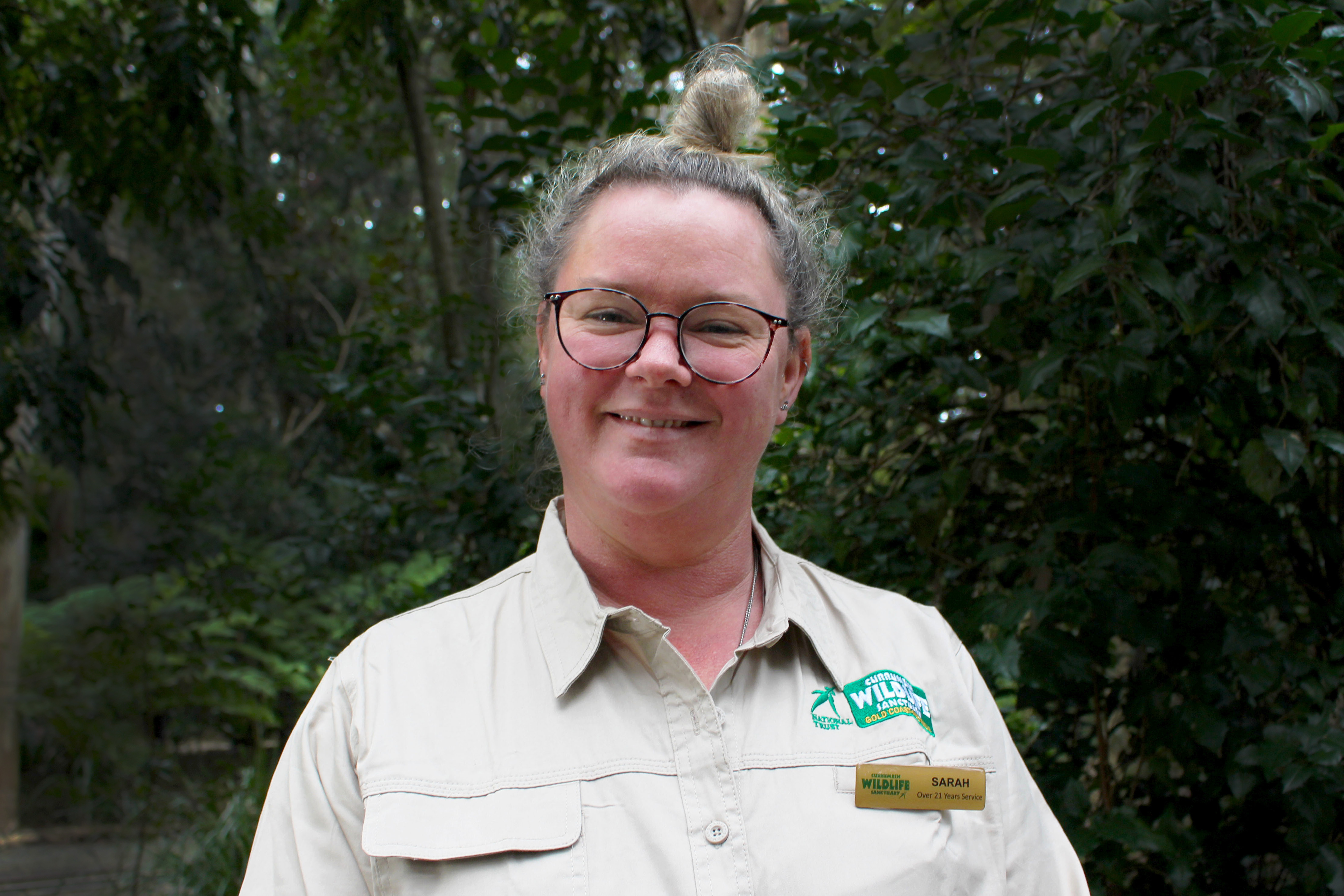 Sarah Eccleston's infectious energy inspires anyone she talks to and makes her a natural and a role model for many. She has spent her whole adult life working with Koalas at Currumbin Wildlife Sanctuary and is an amazing advocate for this iconic species which has recently been listed by the Australian Government as endangered.
She is the published author of 'Have You Seen a Tree for Me?' which is a children's book which aims to inspire the next generation to become future Koala conservation champions. The children's book aims to bring awareness to the serious plight of Koalas and educate the next generation about habitat loss and the ways to help protect them for the future. Sarah has been sharing this important message with children everywhere and her book has even been read by Sarah Ferguson, the Duchess of York on her Storytime online platform in the United Kingdom.
Koalas have always been Sarah's passion and she has now been Koala Specialist for over a decade.Her first role at Currumbin Wildlife Sanctuary was as a gum cutter; collecting leaf for the fussy eating habits of the Koalas and looking after Koalas in the park. This progressed to becoming a koala keeper and eventually the Mammal Team Leader.
Sarah is involved in many of the research projects at Currumbin Wildlife Sanctuary and Hospital, to help save Koalas in the wild. She does this in many ways including finding ays for koalas to cross roads safely, understanding their gut microbiome, to contributing to the Koala Chlamydia Vaccine Program, and even programs using facial recognition AI to identity individual Koalas in the wild!
Allison Beutel | Bird Supervisor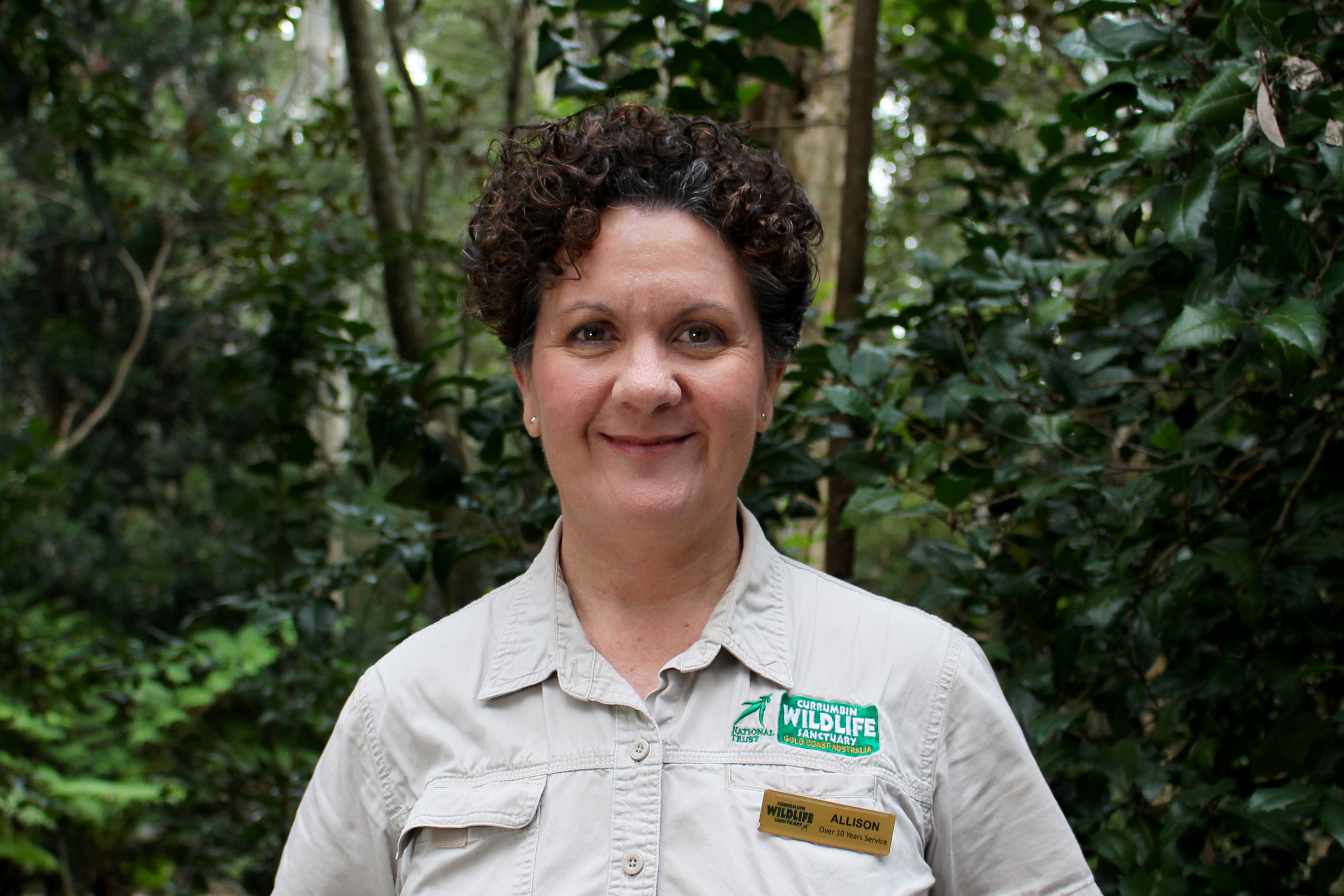 Allison Beutel is highly experienced in bird breeding programs and has an extraordinary commitment to conservation. Allison has worked at Currumbin Wildlife Sanctuary for over 20 years, but her career in zoology has led her around the globe.
Allison has loved birds since she was a teenager when she volunteered at Currumbin Wildlife Sanctuary. Soon after she secured a full-time bird keeper position. In 1996, she received her Bachelor of Science in Zoology from the University of Queensland. She then did further study in 2005 at Cornell University to receive a certificate in Bird Biology.
In 1998 Allison moved overseas to work at San Diego Zoo to gain further experience with exotic species as well as work with many endangered species. San Diego Zoo is internationally renowned for its endangered species breeding programs and conservation efforts. Following her keen interest in avian incubation and hand rearing, she worked at the Avian Propagation Centre, initially as a Keeper and then as a Team Leader.
In her role as Bird Supervisor at Currumbin Wildlife Sanctuary, she manages the Bird Department to ensure all breeding, husbandry and medical requirements for our bird collection are fulfilled to the highest standard. One of her key focuses is managing the captive breeding program for the endangered Eastern Bristlebird, at both Currumbin Wildlife Sanctuary and Garima Conservation Reserve. Allison's capability in breeding this species highlights her skill and experience as this is no easy feat.

"In my lifetime I would love to see the results of the many years of collaborative work successfully culminate in bristlebird numbers increasing in the wild to levels that enable them to no longer be classified as endangered."

We Need Your help!
National Trust of Australia plays a leading role in the protection of wildlife, conservation, and heritage. Many of the animals or places we love would not exist today without the assistance of National Trust.
You can make a difference in protecting our natural and cultural heritage by donating and joining our efforts.
Help an area of conservation you care about; support nature & wildlife, protect our buildings and collections, plant trees and treat our environment with care.
Help with our wildlife hospital and ground-breaking research to ensure our wildlife is safe in its natural habitat and the communities that treasure them.
Help us to conserve and advance our natural and cultural heritage for future generations.
You can help make a difference! Any amount, large or small, will help support our conservation programs.