A Message from the Board of Directors

Dear Members

On behalf of the National Trust Board of Directors in Queensland, I would like to thank you for your ongoing loyalty. We value the support of our local communities through our membership program. This year, we are seeing more optimism after a difficult couple of years for Currumbin Wildlife Sanctuary & Hospital and our 15 properties across the State.

National Trust is a not-for-profit charity that relies on the proceeds of our tourism business and other programs to fund our conservation and research work, education programs and care for our properties from Currumbin to Cooktown.

Recent years have provided the opportunity to review our organisation and increase our focus on conservation programs.
The Board, together with the leadership team, are genuinely committed to our charitable purpose:
"To promote and advance the conservation, protection and understanding of Australia's natural and cultural heritage, including the heritage of Australia's First Peoples, for public benefit and education."
This commitment has been reflected in every discussion, activity, and decision, starting with the Board's strong focus and actions on how to build resilience for the future across all aspects of the organisation for the benefit of everyone.
Nobody can predict the future, but we can examine the best ways to safeguard the organisation, including implementing the most relevant and considered actions now. We are sure that every person connected with National Trust in Queensland would want certainty into the future and to do all we can to best support the actions being taken for the benefit of all.
To fulfil the charitable purpose of National Trust, this year, we have collaboratively developed and introduced critical strategic priorities across Queensland, which all of us as members will appreciate is essential and good business sense.
Our vision is "To be leaders in Conservation and Heritage", and we firmly believe that everything we have put in place over the past 12 months will enable us to realise this vision as we move forward with our new Strategic Priorities. To achieve this vision, we must work together to support the Board and the leadership team in every way we can. After all, we are responsible for leaving a legacy for the future.
As a quick update, I would like to share what we have accomplished so far. There has been an extraordinary list of successes this year. The Board acknowledges the dedicated and highly skilled leadership team for creating an environment that is 'resilient, agile and committed to problem-solving: much-needed qualities in a time of constant change and uncertainty. This environment and the skill set of the current Board have contributed directly to effective, timely and relevant decision-making.
The Board and the leadership team are working closely and collaboratively to identify, prioritise and implement key business priorities to support balance and growth across NTAQ. Some of what we have achieved to date includes (and there is more to report in future updates):
Nine Strategic Priorities that set out what we will deliver to safeguard NTAQ into the future. This includes a strong focus on financial resilience, which is necessary so that we can deliver on the charitable purpose. So far, we have achieved the result of intelligent and purposeful decisions.
We are strengthening our governance so that the current Board can deliver certainty and use the strong skills mix to support the Leadership team into the next 12 months with certainty.
Organisational efficiencies have also resulted from our better governance processes, and we expect to see further benefits from these efficiencies in the future.

The Board and the leadership team members are now meeting monthly (increased meeting frequency from bi-monthly to monthly). We introduced this new approach in December 2021, effectively doubling our focus on strategic priorities.

The new Board wanted to ensure that decision-making and guidance for the leadership team were agile, timely and streamlined. This also necessitated the streamlining of governance structures.
A new approach to risk management, including introducing the Board's Risk Appetite, has flowed through to all aspects of strategic and operational risks in the organisation, including opportunity realisation. Every successful organisation needs to recognise and establish its Risk Appetite, which has helped us make streamlined business choices immediately.
A Digital and IT strategic priority will help to augment our position as a leading natural and heritage conservation organisation and support scaled-up e-commerce. The efficiencies gained internally will flow throughout the organisation's functions and protect against potential crises like the pandemic.
Prioritising strategic projects during recovery will serve multiple purposes, including ongoing competitive advantage in a highly competitive domestic economic environment. We are delighted to see continued support from the community for these projects, and we sincerely thank our partners, corporate sponsors and donors.
A new heritage working group led by Director Stephanie Keays has re-focused strategy on a very important element of the charitable purpose.
Visits by the Board and leadership team to different regions in the State have allowed us to reconnect personally with members and volunteers has been very rewarding and much-needed. We hope to continue ensuring this connection with many more members and volunteers in the future. Our volunteers are well known for their passion, and we are grateful that our community is willing to support NTAQ's endeavours through the generosity of the volunteer program.
This year is also very special for National Trust as we celebrate the 75th Anniversary of Currumbin Wildlife Sanctuary – a place of local, national, and international significance. It is a significant place that offers wonderful memories, educational experiences and runs threatened species and conservation programs.
We are responsible for doing all we can to conserve and advance our environmental heritage, restore habitats, and further advance the world-leading research and conservation breeding programs to ensure that we leave this world in a better place. All of us are on this journey together – our obligation is to ensure that our conservation activities deliver future-proofing species for all generations who follow.
As we know, when there is a change of such magnitude as we have experienced globally, we want everyone in our community to know that we, the Board, together with the leadership team, are providing certainty, focus and commitment so that National Trust will be here in Queensland for future generations.
We look forward to seeing you soon at one of the National Trust properties, and we thank you for your ongoing support.

With best wishes
Gina Palmer
President
National Trust of Australia (Queensland)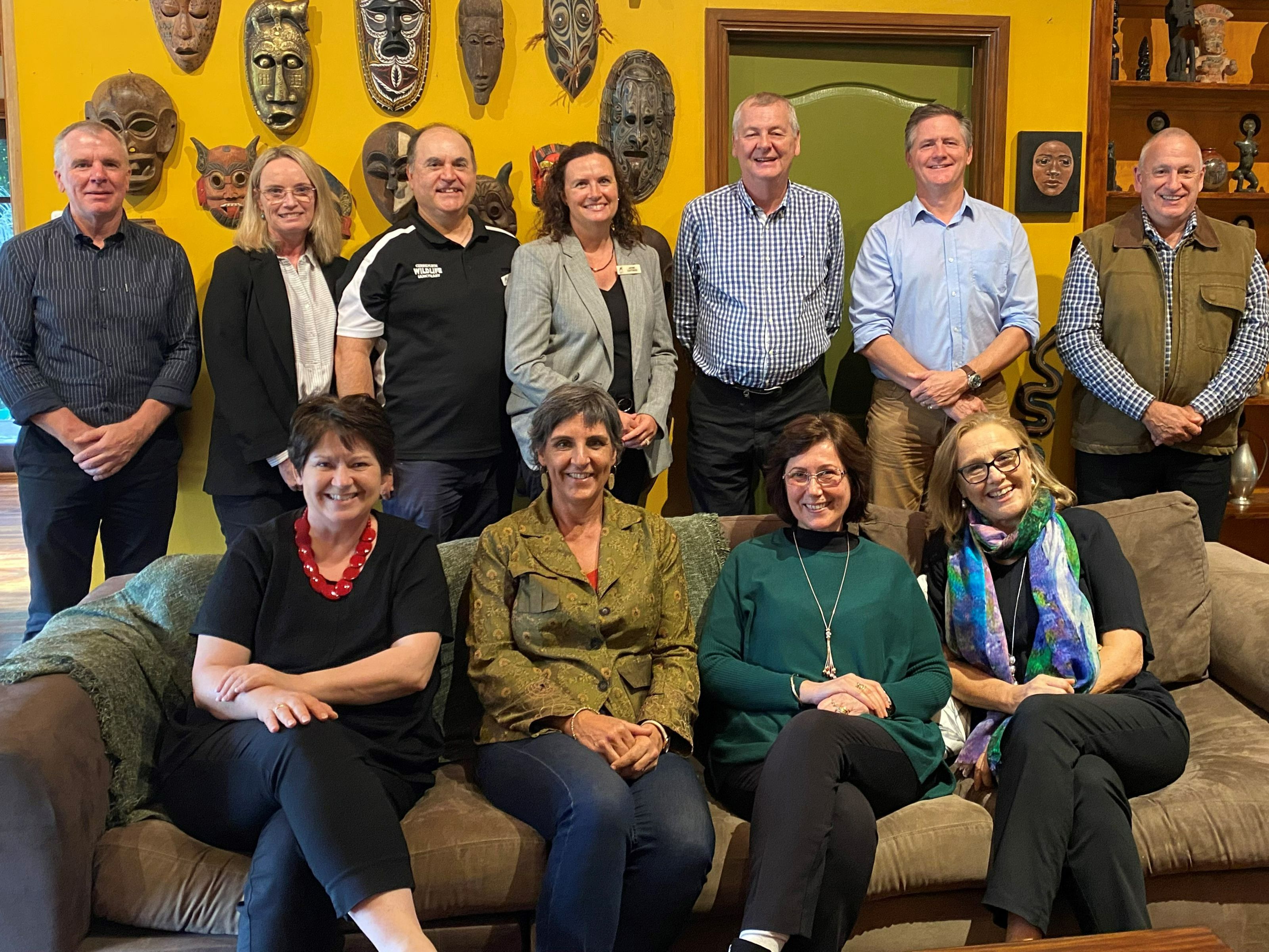 NTAQ Board pictured at Garima Conservation Reserve, Currumbin Valley
Back Row: Garry Vistarini, Mellissa Brown, Ben Graziani (NTAQ CFO/Company Secretary),
Jayme Cuttriss (NTAQ CEO), Mark Townend, Toby Price, Stuart Lummis (Deputy President)​​​​​​​
​​​​​​​Front Row: Glenys Schuntner, Stephanie Keays, Gina Palmer (President), Carolyn Parker