Introducing Our New Leadership Team
Gina Palmer has been appointed to the role of NTAQ President. Gina has taken over from Henry Smerdon AM, who stepped down at the end of this year. Gina has been a director with National trust but is enthusiastic to take on this new role as President and assist to shape the strategic director of National trust as a community-based charity. brings to the Board her passion for the conservation of natural, cultural and bult heritage, and extensive experience in strategic partnerships and change management.
Stuart Lummis is taking over the role of Deputy President, after being appointed to the Board in 2020. Stuart has many years of experience as a senior executive in the property industry, with a focus in asset and facilities management, development, and construction, which has enabled him to provide a unique insight into managing heritage listed properties.
National Trust in Queensland has also welcomed four new Directors at the recent Annual General Meeting, held at Currumbin Wildlife Sanctuary.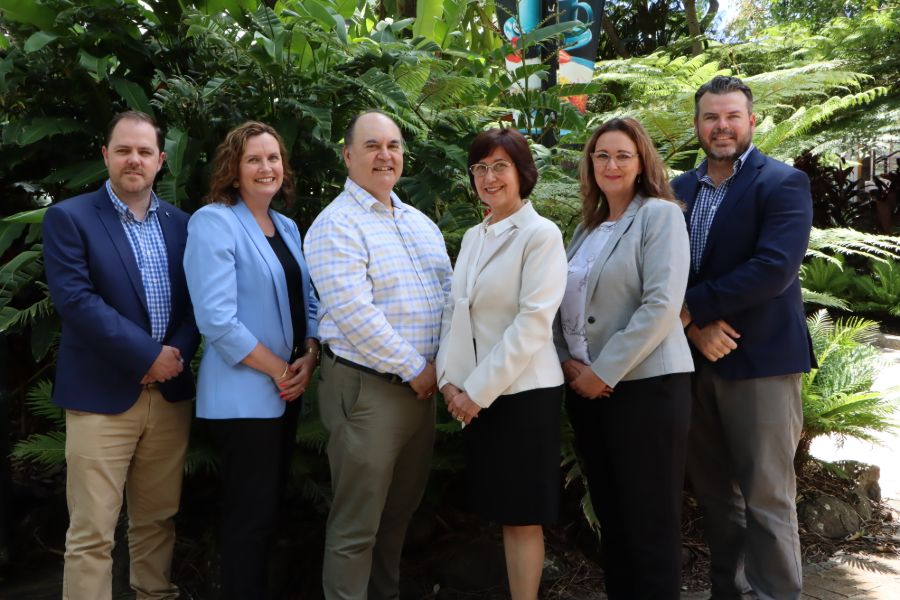 Mellissa Brown is from Far North Queensland and has a very strong background in wildlife ecology, project management and threatened species programs.
As an active National Trust member and Heritage Architect based in Toowoomba, Stephanie Keays brings to the Board a solid understanding of regional issues, including first-hand experience of the operation of National Trust property, the Royal Bull's Head Inn.
Glenys Schuntner, based in Townsville, also joins the Board with has over a decade of board experience, including roles in North Queensland and Northwest Queensland.
Garry Vistarini retired in July 2021 from his five years long role of Chief Financial Officer for the National Trust of Australia (Victoria). He has now relocated to Broadbeach, Queensland and brings years of understanding of the inner workings of a National Trust organisation.
Gina says, We are going forward into times which are about recovery. We're very excited about that. Our focus when recruiting the new Directors was on having great regional representation from Currumbin to Cooktown to reflect our properties. We wanted to achieve a good balance with our diversity, with different skillsets that allow us to refine our strategic focus so we can continue Alex Griffiths' legacy into the future. We wanted to present the best possible candidates for our National Trust members to vote on. We warmly welcome to Mellissa, Stephanie, Glenys, and Garry to our Board. They will join existing Board members Carolyn Parker, Mark Townend and Toby Price.
I will work closely with the Senior Leadership team including, Jayme Cuttriss who was formerly appointed as Chief executive Officer in August 2021, after holding the role of Acting CEO since April 2020 and steering NTAQ through the challenges of the COVID-19 pandemic. Scott Kirk has taken over the role vacated by Jayme, becoming General Manager of Marketing and Sales. Scott stepped into the role after six years as National Trust Currumbin Wildlife Sanctuary's General Manager of Global Sales.
Our senior leadership team also includes Ben Graziani, who has been CFO and Company Secretary for NTAQ since 2014. His 30 years of commercial experience provides him with a strong background in finance, corporate governance, and general commercial management, in addition to extensive experience in the not for profit and tourism sectors.
Jane Jamieson has been our General Manager of Human Resources and Volunteer Programs for 12 years. Skilled in talent management, employee engagement and organisational development, she has extensive experience in the travel and tourism industries.
Michael Kelly remains Currumbin Wildlife Sanctuary's General Manager. Michael is also a Board member of the Zoo and Aquarium Association of Australasia and Vice President of the Southern Gold Coast Chamber of Commerce. Michael has been with Currumbin Wildlife Sanctuary for eight years, and has extensive experience in the theme park, hotel, and casino industries.
Our leadership team looks forward to an exciting year in 2022, with a number of historic milestones on the horizon, including:
75 years of Currumbin Wildlife Sanctuary
170 years of Wolston Farmhouse
175 years of Royal Bull's head Inn
150 years of Charters Towers
CEO Jayme Cuttriss says, It has been a challenging few years for National Trust but with support of the Board, the leadership team, have stayed focused on the opportunities for the future. We thank our very dedicated team of nearly 1000 staff, volunteers and training participates that all play a very important role in the work that we do in communities, and through our conservation and research projects. We are excited by the diversity of skills that the new Directors bring to the National Trust in Queensland, and I look forward to what the coming years bring for our members in terms of new attractions and improved visitor experiences.