The Legacy of Alex Griffiths
National Trust Currumbin Wildlife Sanctuary is one of the longest running tourism attractions on the Gold Coast, operating for over 70 years. More importantly we have been protecting native wildlife through conservation efforts and the amazing work of Currumbin Wildlife Hospital. The Sanctuary has grown to see close to 600,000 visitors a year from all around the world, with the hospital now treating over 12,000 wildlife patients a year. It is hard to imagine that Alex Griffiths could have envisioned such expansion to the iconic tourism attraction. It was from humble beginnings the Sanctuary was born.
Alex Griffiths was a local beekeeper and flower grower that was frustrated by the wild rainbow lorikeets that were ravaging his prized gladioli blooms. His answer to the problem was to distract the lorikeets by feeding them. And so the iconic lorikeet feeding was brought to life. Now many visitors talk of time when they were younger – of a visit to the Sanctuary to feed the masses of wild lorikeet that came each day.

It was 1947 when Griffiths opened up what was then the Currumbin Bird Sanctuary. It was a small-scale lorikeet feeding display originally but it soon gathered momentum, and a crowd favourite amongst locals and tourists, eventually becoming one of the Gold Coast's best family attractions.

By 1964 the Sanctuary built the much loved miniature railway attraction, and by this time, the Sanctuary also had a wide array of animals.
In 1976, with Alex Griffiths in his later years, Currumbin Wildlife Sanctuary was gifted to the National Trust of Queensland, and the Sanctuary became a not-for-profit organisation to accommodate the growing number of native animals.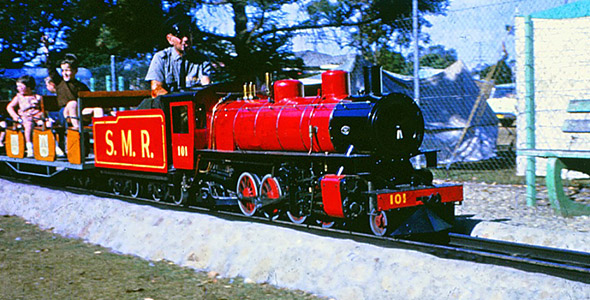 It was in 1989, the original Currumbin Wildlife Hospital was founded, and veterinarians were employed to care for the sick, injured and orphaned wildlife.
The Sanctuary has come of age with new attractions like Lost Valley showcasing stunning exotic species including free roaming lemurs and macaws, Wild Skies Free Flight Bird Show in a purpose built arena, and this year's newest attraction Wild Island Adventure Splash Zone. But in the same way as years gone by, visitors love to cuddle a koala, feed the kangaroos, ride the train and of course feed the lorikeets that still naturally come each day at 8am and 4pm to feed, giving much joy to our visitors. These are memories that last a lifetime.
You can support Alex Griffiths Legacy with a National Trust Membership